Mexican Tomatillo Soup Recipe
by MJ
(Barra de Navidad, Mexico)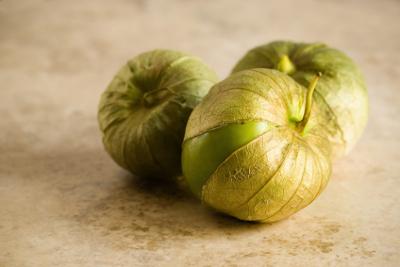 Tomatillo
This is a Delicious Mexican Soup Recipe that uses tomatillos - small green tomato-like fruits that have a papery husk covering them.


3/4-1 LB pork, 1"-2" chunks (chicken or ground beef could be used instead)
1 fist size potato, 1" cubes
1 medium carrot, chopped
1 medium to small onion chopped, 1" pieces
3 cloves garlic chopped
2 poblano chilies, roasted*, peeled, seeded and chopped into 1" pieces, (or 1 medium can green chilies)
3 roma tomatoes chopped
20-25 tomatillos, de-husked and quartered, remove stem pith
1/2 serano pepper seeded, and minced (or to taste)
1 teaspoon cumin powder
1/2-1 teaspoon garlic powder (or to taste)
1/2-1 teaspoon onion powder (or to taste)
1 teaspoon dried oregano (or to taste)
1 cube chicken, tomato bouillon
1/2 teaspoon salt
1/2 teaspoon pepper
1 Tablespoon sugar (counters the acidity of the tomatillos)
1 Tablespoon olive oil
4 or 5 cups of water

Chop half the onion and 1 clove garlic. Chop meat into cubes saute all together in the olive oil until onion is clear and meat is browned.

Cover with water and simmer, covered until meat is tender. (This step may be done in a pressure cooker by bringing it up to pressure then cooking for 10 minutes.)

Once meat is tender, add all the other ingredients which you have chopped while the meat cooked. Cook meat and veggies, simmering, covered until the tomatillos are falling apart. (If using a pressure cooker, bring up to pressure again and cook for 10 minutes.)

* To roast poblano chilies, place directly into the fire of gas stove burner, turning frequently as the skin blisters and turns black. Or grill the chilies on a gas grill until blistered and blackened. Use tongs or a fork to hold the chilies to avoid possible skin reaction. Remove from heat and place in a paper or plastic bag to sweat for 15 minutes. Remove from bag and scrape blackened peel off. Cut open, discard seeds and cut to strips.

* Serving suggestion: serve with cheese quesadilla or tortilla chips.