Soup Thermos
Add a Soup Thermos to your collection of lunch containers to expand your lunch menu options. A wide mouth thermos transports leftover homemade soup in ready-to-eat style.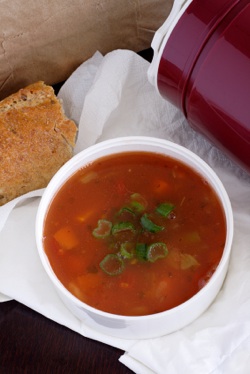 Soup is a fantastic lunch but keeping it at temperature when you're at work or school can be a challenge. A good thermos will keep food hot for 5 or more hours as long as it's hot when it goes in and the thermos has been heated with boiling water just before the piping hot contents are added.
The thermoses featured on this page have been ranked above 4 stars on Amazon by consumers who have used them.
From pre-school to the boardroom (or the backhoe), there's a wide mouthed thermos that will fit in the lunch bag and deliver piping hot lunches for every member of the family.
A wide funnel such as the Norpro Stainless Steel Wide-Mouth Funnel
helps enormously when transferring hot food into a thermos. Designed for canning, these funnels put the food where you want it while keeping the rim clean, and it turns out that they work equally well with a wide mouth thermos .
________________________________________________________________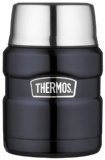 Thermos Stainless King Food Jar
Thermos keeps doing it right. The 16 ounce capacity of the Stainless King makes for a good, man sized (or even teenager sized) lunch container.
Transport hot soups, stews, chowders and any other hot food (even weiners) and keep them steaming hot 'til lunch time. And it has a folding spoon tucked away
Bag lunches don't have to be ho-hum... if you have the right containers to take a wide variety of foods. A wide mouth thermos opens up a huge number of to-go lunch possibilities. It saves a bundle of money on bought lunches too.
Typical Amazon customer comments.
"Oh my goodness, you will NOT go wrong with this item! I put soup in it at 7am in the morning, and it's still piping hot at 1pm when I eat lunch!!"

"Pros:
* Compact size;
* Folding spoon;
* Easy to clean -- low profile;
* Great price;
* Clip for spoon;
* Tight lid ---- kept temperature for 7 hours --- I burned my tongue.

Negatives:
* Cup is a little small;
* Only comes in one color, like the model T ("They can buy any color they like, as long as it's black."(Henry Ford)).
"
________________________________________________________________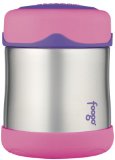 Foogo by Thermos, Leak-Proof SS 10 oz Food Jar
For the kids. They'll love their own thermos that's sized down to a 10 oz capacity for kid sized appetites, kid sized hands and kid sized lunch kits.
This thermos is available in pink/purple or blue/yellow and is made (by Thermos) from FDA approved materials.
The wide mouth is big enough for the kids to eat straight from the container and the design keeps food at the perfect temperature for more than 5 hours.
Here's what parents are saying about the Foogo
Typical Amazon customer comments.
"I did my research and the Foogo looked like the best option. Well it WAS!! I pack my daughter's lunch at 7am and she says it's still warm at noon at preschool..."

"Now my wife will make them some hot soup at about 7:30 in the morning and by lunch time at 12:30 the kids have said everything is still hot. The other nice thing is they say all their friends comment on their thermos."
________________________________________________________________
As for what to put in to your soup thermos, try hamburger soup or pepper pot soup, it's a rare soup that isn't better after a day or two and these are no exception.