Borscht Recipe
Old country borscht soup.
My Favourite Borscht Recipe
If you're looking for a beet soup recipe that'll knock their socks off, set out the soup pot and start simmering up this family favorite.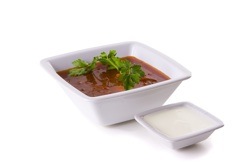 I have finally talked my mother-in-law into writing down her secret borscht recipe, a delicious concoction that has been a part of almost every major get-together the family has enjoyed in the last 70 or so years.
I've come to associate this soup with warmth, laughter and happy times spent with family and friends. Steaming bowls of pink soup are woven into so many memories of life on the farm. If you've had the privilege of sitting at Lil's table you've likely savored this sumptuous soup yourself.
This is a recipe that is often made at harvest time when the garden is bursting with beets, beans, peas, potatoes, carrots and dill. Lil makes a huge pot and divides it, freezing containers full so that the ubiquitous beet soup can be a part of Christmas, Easter and birthday celebrations. The finishing touches are added only to the amount of borscht that she's going to use at the time.
Lil's Borscht Recipe
Ingredients
4 - Beets, fist sized.
4 - Potatoes, fist sized.
4 - Carrots, large.
2 Cups - Peas, fresh or frozen.
1 Tin - Chick peas, drained (garbanzo beans).
2 - Onions, medium sized, chopped.
1/4 - Large head of Cabbage, chopped.
1 Tin - Pork and beans, rinsed.
2 Cups - Green beans, cut in 1/2 inch (1cm) pieces.
1 Quart (liter) carton - Chicken stock.
1 Quart (liter) carton - Beef broth.
1 large bunch - Fresh dill tops and leaf, tied together.
2 Tins - Tomato soup, undiluted.
1 Tablespoon - Lemon pepper.
1 Tablespoon - Sea salt, or to taste.
To taste - Black pepper.
1/4 Cup - White vinegar.
1/2 - 1 Cup - Heavy cream (whipping cream).
Method
Into a 6 quart soup pot, coarsely shred the beets, potatoes and carrots. A vegetable shredder (below) will make this a quick and easy job. Add the peas, chick peas, onions, cabbage, pork & beans, green beans, chicken and beef stock.
Liquid should barely cover the vegetables (add water if needed). Place bouquet of dill on top of vegetables, cover pot and bring mixture to a simmer. Continue simmering for 1 hour or until vegetables are tender.
Add tomato soup, lemon pepper, salt and pepper and simmer for another 15 minutes.
Let cool and divide the soup into portions that will be frozen and the portion you'll be using immediately. Freeze the containers for another day.
To the portion saved for immediate use, add the cream and heat thoroughly without bringing to a boil. "Use enough cream to make it nice and creamy" says Lil. Alternatively, set out a small dish of cream and allow your guests to add their own.
Adjust seasonings - add salt or pepper as required.
Serve with vinegar and fresh bread. Enjoy!
Makes about 20 servings
This borscht recipe is large enough for a crowd. For a vegetarian version, simply replace the chicken and beef stock with vegetable broth and use meatless varieties of the tinned beans.
The right tools make any job easier.