Lentil Soup Recipes
"Souperb" cooking with lentils.
Looking for Lentil Soup Recipes that are packed full of flavor? Here's a hearty soup recipe for lentil and legume lovers that's super nutritious, inexpensive and delicious.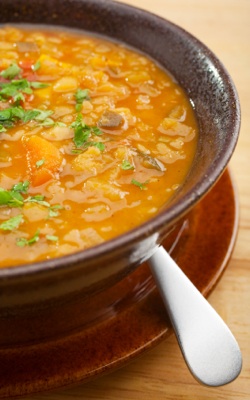 Cooking lentils is simple and some of them cook quickly enough to earn a page on our easy soup recipes page.
This lentil recipe is high in flavour and takes an hour or less from start to finish.
Lentils are high in protien and available in red, black, brown, yellow and green varieties.
Because of their high protien value, lentils are an important part of most vegetarian diets.
Although this version of the recipe is not vegetarian it can easily be converted by eliminating the sausage or bacon and substituting olive oil for the fat. Additionally you can change the chicken boullion to vegetable.
My Favorite Lentil Soup Recipe
Ingredients
1/2 Cup hot italian sausage, chorizo or bacon pieces
1 large - onion, chopped
3 medium - carrots, peeled, cut lengthwise and chopped
3 cloves - garlic, minced
1 - 14 ounce tin - diced tomatoes
1 cup - lentils, remove discolored lentils and rinse
3 to 4 Cups - water
1/4 Cup - dry red wine (if desired)
1/2 teaspoon - dried basil
1 - Bayleaf
2 - chicken bouillon cubes
Salt and freshly ground pepper
Lemon or Lime
Method
In a soup pot or dutch oven, scramble fry the sausage/chorizo/bacon til well cooked. Do not drain off fat.
Into the pot, add the onion and carrot - cook and stir for 5 minutes. Add garlic and cook 1 minute more (until fragrant)
Now add diced tomatoes, lentils, 3 cups of the water, wine (optional), boullion cubes, basil & bayleaf.
Heat to boiling then reduce heat and simmer until lentils are tender 30 to 50 minutes, depending on the size and variety of lentils you use. The cooked lentils should hold together while being tender to bite. Add water as necessary to keep soup the desired consistency.
Serve with a wedge of lime or lemon and chopped cilantro (optional).
Makes 5 servings
Substitute 2 tins of chicken broth for the the bouillon cubes and reduce water to 1 & 1/2 Cups.