Turkey Carcass Soup
How to Make Turkey Carcass Soup. Super simple directions for making a splendid golden soup from the leftover bits of your roast turkey supper.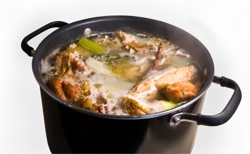 The stock produced from this recipe will be a cloudy, tasty concoction that can be used as a base for any turkey soup recipe.
If you were looking for a clear stock, follow this turkey noodle soup recipe instead.
Turkeys vary quite a bit in size so the ingredients may need to be adjusted upward if your carcass is from a bird that weighed 20 lbs or more (8 kilos).
I just throw everything back into the roaster, it gets every bit of the flavor and makes the roaster easy to clean. Use a stock pot if you'd rather. Any bits of stuffing and gravy will add flavor to stock.
Turkey Carcass Soup Recipe
Broth Ingredients
Turkey carcass, skin, fat, neck and wing tips
2 - Celery ribs, coarsely chopped, with leaves
2 - Carrots, scrubbed and chopped
1 - Medium onion, peeled and quartered
1 - Tomato, quartered
1 teaspoon - Poultry seasoning
1 Tablespoon - Parsley, dried
2 - Bayleaves
1 teaspoon - Salt
Water to cover
Broth Method
Pile all of the ingredients into a stock pot and cover with water.
Bring to a boil then set heat at medium-low and simmer, uncovered, or partially covered for 5 - 6 hours.
Stir occasionally, breaking up carcass and vegetables with a wooden spoon. Add water as necessary, be careful not to over dilute the broth.
During the last hour allow the contents to concentrate, simmering down to a rich broth and adding very little water, if any. You can always add water to an over concentrated broth later but an over diluted broth is flavorless and can take hours to simmer down to a palatable state.
Strain contents into a bowl using a strainer lined with cheese cloth. Allow all of the broth to drip into the bowl. Discard the solids.
Use the broth immediately to finish the turkey soup (recipe below) you may need to skim fat that floats to the top. Alternatively, you can refrigerate the stock for 2 weeks as long as you bring the broth to a boil every 3 days and re-cool. The fat hardens on the top creating a seal. Don't de-fat the stock until you intend to use it, then discard what you don't want in your soup. Additionally, the broth can be frozen for up to 3 months. To take up less room in the freezer, reduce the broth to a gelled consistency then freeze in small containers (even ice cube trays). Dilute to taste when it's time to use it in a recipe.
Makes about 6 cups
Turkey Carcass Soup Ingredients
6 Cups - Turkey broth
2 Cups - Cubed turkey
1 Cup - Carrots, beans, broccoli or asparagus (or mixture)
1/2 Cup - Medium egg noodles
2 Tablespoons - Fresh chopped parsley
Salt to taste
Turkey Carcass Soup Method
Into a 3 quart (liter) pot place the turkey broth and heat to a light boil.
Add the remaining ingredients (except the salt) and bring back to boil. Reduce heat to med-low and continue simmering for 20 minutes.
Adjust salt to taste and serve with toasted cranberry bread.
Serves 6
Freeze the turkey carcass and soup parts and make the soup another day.