Poblano Soup Recipe
Here's a Poblano and Potato De-lish Dish
This Poblano Soup Recipe with Potato yields a hearty and scrumptious dish that's easy to make. The mild poblano chile makes a perfect background flavor while the potato lends a stable base.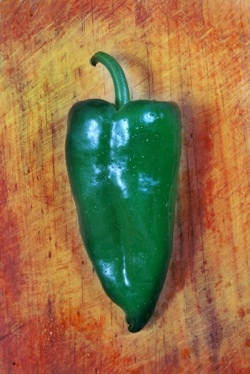 Well, the Captain wasn't feeling well yesterday and we're out at anchor near Mazatlan so I decided to make a soup I've been concocting in my mind lately.
I had some poblano chilies so I scrounged around the galley pantry and found some ingredients that I thought would make a nice soothing and filling soup.
Poblano Chilies have a wonderful flavor, and in spite of being a chile they are not at all hot. They are a lovely deep, shiny, green with an elongated shape with a pointy tip.
Along with my poblanos I had some potatoes and a number of my trusty pantry ingredients that make impulse soup making a possibility when I'm living on board.
Poblano Soup Recipe
Ingredients
4 - Poblano Chilies, discard stems, seeds and white pith.
1/4 Cup - Butter or margarine.
1 Cup - Celery leaves and stalk, chopped.
1/4 Cup - Onion, chopped.
4 - Potatoes, partially peeled, diced.
1/2 tsp. - Oregano.
2 Cubes - Knorr Chicken bouillon.
1 Liter (quart) - Water.
3 Cups - Water
1 Cup - Powdered Whole Milk *Substitute.
2 Tbsp. - Flour or 1 T of cornstarch.
*Substitute for 1 Cup of whole powdered milk -- Use only 1 liter of water and near the end of cooking add 3 Cups of whole milk.
Method
Cut the poblanos into thin slices then chop coarsely. Melt the butter in a 5 quart (liter) soup pot and add the chopped poblanos to the sizzling butter in the soup pot. Saute for 15 minutes stirring periodically.
Meanwhile, trim and chop the celery, onion and potatoes. When the poblanos are just beginning to get mushy add the celery and onions and stir until transparent. Add the potatoes and stir around for 2 minutes.
Pour in 1 liter (quart) of the water then add the oregano and bouillon cubes, stir until cubes are dissolved then cover and simmer for 20 minutes or until potatoes can be easily crushed against the side of the pot with a fork.
Mash the contents thoroughly.
Dissolve the whole milk powder into the 3 remaining Cups of water
In a coffee mug, put the 2 tablespoons of flour and add 2 tablespoons of the prepared milk, mix into a smooth paste using a fork then add more milk to make a thin mixture.
Add the milk/flour mixture and the remaining milk to the pot and simmer until thickened. Bring the contents to a light boil for 1 minute and serve.
It's great as is or add a spoonful of Cheez Whiz or a sprinkle of melty grated cheese to each bowl.
Makes 4 -6 servings
Poblano Soup Recipe Tweaks
If you want a super smooth texture, puree' the mixture rather than just mashing it.
For vegetarian, vegan and gluten free diets, substitute XXXX for the Knorr bouillon cubes. You'll find it at The Soup Pantry
Sometimes I Live on a Boat
You'll find many recipes where I use Knorr chicken bouillon cubes, Oxo beef bouillon powder, dried onion soup mix and Nido whole milk powder. These are staples that I always have on board.
Space on a boat is limited and weight needs to be closely monitored.
For me, dried products are the absolute charm. They weigh next to nothing, are shelf stable for a year or more and allow me to be creative wherever I happen to be.
This Poblano Soup was created aboard Pacific Jade while at anchor at Stone Island, Mexico