About Us
How "All Soup Recipes" came to be.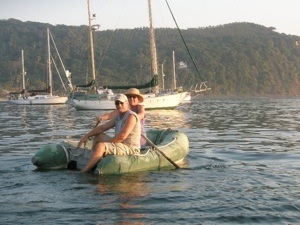 Mostly it's me, Deb, that publishes these pages, but a whole community of soup makers and eaters have contributed recipes, opinions and stories that make the site what it is... and what it will become.
I live on a sailboat for half of the year and many of my recipes have been tested in my tiny galley on a 41 foot vessel that is often swaying and bobbing around an anchorage. If I can make these recipes, so can you.
I live on this sailboat with my husband, "Joe the Stomach", as our cruising friends fondly call him and he is my very willing soup tester along with children, grandchildren and a vast group of family and friends wherever we travel.
Wherever I am at the time, on cool and rainy days on Canada's West Coast and blustery days at sea, it isn't just the eating of the soup but also the making of the soup, that makes me feel anchored and safe.
There's just something solid about making soup, I love every part of it; flipping through soup recipes and articles; choosing a soup recipe and checking the pantry to see if I have the ingredients; assembling and preparing all of the soup's components; setting the heat under the soup pot and concocting the day's selection.
And the smell... the pure aroma of sanctuary, wafting about the house as the soup does it's magic thing in the cauldron. And then... at the end, I have a big, delicious pot of soup. What's not to love?
Living in two different countries means that ingredients can be limited from time to time and I have abundant opportunities to experiment with what can be successfully substituted... and what can't.
I have had my soup disasters - my family never lets me forget them - you won't find those recipes included here. Lucky for you, you can skip right over the disasters and go straight to the recipes that succeed.
Welcome to my website where we can exchange ideas about everything soup related. You're invited to make comments through the Contact Us page, participate in contests and even submit your own content on the site. Invitations to contribute recipes and content are scattered throughout the site.

Do YOU know something WE should know?
If you have something you'd like to tell the world about, you might be interested to know that a website, properly built, can reach an audience of millions of interested web surfers and make enough money through advertising that you never have to work for anyone but yourself again.
Those looking for a quick and easy ride to wealth might as well skip right over this because it takes (gasp) work, and time to build a website that generates enough traffic to quit the day job.
If you're done with Get Rich Quick schemes and just want a credible alternative to working your life away at something you don't care about, check this out. I'm really glad I took the leap, it's been 5 years since I started my first website. This is my 4th.
Good luck in all your ventures whether they include making soup or websites.