Turkey Noodle Soup Recipe
Grandma's Turkey Noodle Soup Recipe. Don't throw the carcass out! Once you make turkey soup you'll never look at a turkey carcass the same way again. Freshly made egg noodles add a rustic elegance to this basic soup.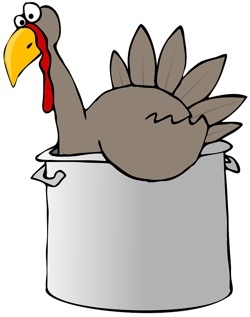 Every turkey soup recipe starts with turkey stock and stock is easy to make from the leftovers of a roast turkey although it takes several hours of cooking time.
This recipe produces a clear broth with a rich flavor.
The broth can then be used immediately for your soup or stored in the refrigerator or freezer.
The trick to keeping the broth clear is to keep the stock from boiling, cooking at a steady temperature just under the boiling point. We use the oven for this recipe but a large crock pot works well too, on low.
If you prefer a cloudy, more intensely flavored stock, check out this turkey carcass soup for a simmered-on-the-stove version.
To boil or not to boil, it's just a matter of preference.
Turkey Noodle Soup Recipe - Making Stock
Ingredients
Turkey carcass, neck, wing tips
1 - Onion, peeled and quartered
2 Cups - Celery tops with leaves
1 - Carrot, peeled and coarsely chopped
1 Tablespoon - Vinegar
2 - Bayleaves
1 teaspoon - Poultry seasoning
1 teaspoon - Salt
Method
Place all of the ingredients in a roasting pan or oven safe dutch oven.
Cover the contents with cold water and place in the oven. Set the oven temperature at 190 degrees F, just under the boiling temperature.
Stew the carcass in the oven, partially covered for 4 hours, occasionally stirring the contents and skimming any scum residue from the top. Uncover and cook for a further 2 to 4 hours, stirring from time to time and keeping enough water in it to prevent scorching, there shouldn't be enough liquid to cover the bones by the time it's done.
Strain the contents into a large bowl and discard the solids. Line a strainer with 3 layers of cheesecloth and re-strain the liquid into a storage container or soup pot.
Skim any unwanted fat from the surface of the stock before you proceed with the soup making.
Makes approximately 2 quarts (liters) of turkey stock.


Turkey Noodle Soup Recipe
Ingredients
6 - 8 Cups - Turkey stock (recipe above)
3/4 Cup - Celery, chopped
3/4 Cup - Carrot, diced
3 Cups - Turkey, cubed, saved from carcass
1/4 Cup - Parsley, fresh, snipped
Method
Begin with turkey stock (above) in a heavy bottomed 4 quart pot. Adjust the flavor by adding water if the broth is too rich or spices (salt, pepper, tabasco, boullion, white wine, etc.) if too thin. Set the heat to med-high until the broth begins to boil.
Add carrots, celery and parsley, simmer for 10 minutes.
Add noodles, dried or fresh (recipe below) and turkey and cook for 10 more minutes.
Serve hot with crusty rolls
Egg Noodles
Ingredients
3 eggs
2/3 tsp of salt
All purpose flour
Method
Beat eggs and salt together in a bowl with a wooden spoon until well mixed.
Add enough flour (a small amount at a time) to make a workable dough that is elastic and non sticky.
On a lightly floured surface, roll the dough into a crude rectangle shape about 1/8th of an inch thick (1/4 cm) or thinner if you like.
Using a sharp knife, cut the dough into thin strips 1/4 inch wide or however you like them.
Drop the noodles, one at a time, into the simmering stock.
The noodle dough can be cut or molded into any shape you like.