Pepper Pot Soup
Colorful and creamy.
Delicious Pepper Pot Soup recipe but with an appetite pleasing twist. This is a quick and easy soup recipe that's thick and mouthwatering and easy on the budget.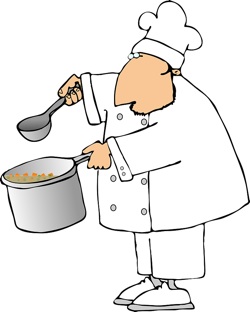 Yum! Another of our family favorites this versatile soup recipe yields a rich, thick, chowdery type dish that fills all those hollow legs in the family.
A concoction of potatoes, sweet peppers, leek and carrot cooked on top of crispy bacon and topped off with a rich chicken broth.
Mm mmm MMM mmm mmmm.
This recipe was developed right here on the sailing vessel "Pacific Jade" and is a non traditional version where bacon is substituted for the tripe.
Pacific Jade Pepper Pot Soup
Serves 4 - 6
Recipe can easily be doubled
Ready in 35 minutes
Ingredients
1/2 Cup - Bacon, chopped
1 - Carrot, quartered lengthwise, chopped to 1/4 inch (1/2 cm)
1 - Celery stalk, chopped
1 - Leek, white part only, chopped (or onion)
1 - Garlic clove. minced
1 - Green pepper, small (or 1/2 large), chopped
2 Cups - Water
2 - Chicken bouillon cubes (Knorr)
1 - Potato, largish, diced
1/4 Cup - All purpose flour
1/4 teaspoon - Ground pepper
1/2 Cup - Water
3 Cups - Milk
Method
In a heavy bottomed 4 quart (liter) pot, scramble fry the bacon til almost crisp. Pour off all but 2 T of fat.
Stir in the carrot, celery, leek, garlic and green pepper and cook for 5 minutes.
Add water, bouillon cubes and potato and cook for 15 to 20 minutes, until potatoes can be crushed against the side of the pot with a wooden spoon.
Mix flour, ground pepper and 1/2 C water in a mug until smooth and lumpless and add to the pot, stirring constantly for 4 or 5 minutes.
Add milk and re-heat the soup.
Serve with a dollop of goat cheese (if you like) and crusty wheat bread.