Traditional Chowder Base
Here's a great starter for old time chowder recipes.
An Old Time Chowder Base Recipe for traditional chowder lovers. A hearty and flavorful beginning to any type of chowder.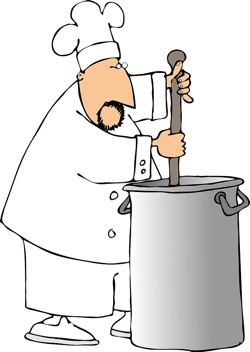 Many old time chowder recipes begin with a base to which you can add your favorite ingredients (or the ones you have available) to create a unique recipe.
The base is composed of a smoky meat, onions, bread or cracker crumbs, potatoes, and a liquid along with some seasonings.
The following base mix is our version of a traditional base that can be used to make any chowder by adding whatever floats your boat to the mixture.
When making a clam or fish chowder, plan ahead and use the stock from cooking your fresh clams or fish (or the canned juice) and reserve the fish/clams to add later. Seafood is very delicate when it comes to cooking and should be added last to prevent toughness.
The following recipe will yield 6 to 8 servings of chowder.
Traditional Chowder Base
Ingredients
3/4 Cup - chopped bacon or salt pork or crumbled sausage meat
3 Cups - chopped onions
1 large or 2 small - bayleaf
2/3 Cup - crushed soda crackers or bread crumbs
5 Cups - liquid (chicken, fish, shrimp or clam stock)
3 Cups - scrubbed and diced red potatoes, peel if desired
2 Cups - heavy cream or evaporated milk
Salt and fresh ground pepper to finish
Method
Fry the bacon, pork or sausage in a heavy 4 quart pot. If meat is very lean add 1 Tbsp of butter or oil.
Add onions and bayleaf; stir, cover and lower heat. Cook about 10 minutes, until onions just begin to brown, stirring occasionally.
Stir cracker/bread crumbs into the mixture then add 5 cups liquid and the potatoes. Cover and simmer until potatoes can be crushed against the side of the pot with the back of a wooden spoon.
Add cream or stock and heat without boiling
Adjust the consistency to your liking
Add salt and pepper to taste
The finished chowder base can be used to make any type of chowder you like.
Try smoked salmon with fresh dill.
Add chopped cooked clams for a creamy New England clam chowder.
Colorful vegetables (cooked and chopped broccoli, asparagus, corn, sweet peppers or a combination) make a yummy vegetable chowder.
Make a fantastic seafood chowder by adding chunks of cooked fish and shellfish.
Just the beginning of a great chowder experience.