Corn Chowder Recipe
Simple Corn Recipes
A Fresh Corn Chowder Recipe that turns fresh or frozen cobs of corn into a delectable chowder at any time of the year.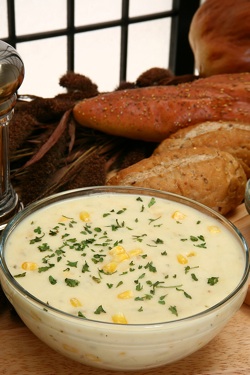 For family meals or entertaining, this corn recipe delivers.
Sweet, Crisp, tender corn kernels nestled in a robust broth. Try this chowder recipe for a meal that brings rich flavor on a peasant's budget. It's filling too and the kids will love it.
It's superb just the way it is but you can change it up by roasting the cobs of corn on the BBQ for 5 minutes before stripping the kernels off. Additionally, top with a sprinkle of cheese or a snip of cilantro.
During corn season, this winner can be made for next to nothing and is elegant enough to grace any table.
Fresh Corn Chowder
Ingredients
1/4 Cup - Bacon, chopped
1 Medium - Yellow onion, diced
1/2 Cup - Celery, chopped
1 Clove - Garlic, minced
1/4 Cup - All purpose flour
6 Cups - Chicken stock, canned or homemade (reconstitute before measuring)
2 Large - Yellow fleshed potatoes, cut into 1/2 inch cubes, peel if desired
6 Ears - Corn, strip corn from cobs, reserve cobs
6 Ears - Corn, strip corn from cobs, reserve cobs
1 Tablespoon - Fresh dillweed, snipped - or a pinch of dried
1/4 Cup - Fresh parsley, snipped - or 1 T dried
Salt & Pepper
Method
Strip the corn kernels from the cobs (either fresh or frozen) with a sharp knife and break the cobs in half, set the corn and cobs aside.
In a heavy bottomed, 4 quart soup pot, scramble fry the bacon til browned.
Add onion and celery, cook, stirring frequently for 5 minutes or until vegetables are transparent. Add garlic and cook for 1 more minute or until fragrant.
Sprinkle the flour over the contents and stir in, cook, stirring constantly for 1 minute.
Pour in chicken stock, 1 cup at a time stirring to blend between additions.
Add the corn cobs and potatoes, simmer over medium heat for 10 minutes, Remove and discard corn cobs. (to get every bit of goodness, hold the cob over the pot with tongs and run the back of a butter knife down the cob allowing the juice to drip into the soup pot).
Add corn, dill and parsley and simmer for another 10 to 12 minutes.
Stir in the half & half and season to taste with salt and pepper.
Heat to a light simmer and serve with a multi grain baguette.
Makes 6 servings
Chunks of cooked ham, chicken or seafood can be added with the half & half or to leftovers the following day.