Crockpot Potato Soup Recipe
A Simple Crockpot Potato Soup Recipe. This favorite from our slow cooker soup recipes archive yields a rustic soup that can be adjusted to suit your tastes and diet restrictions.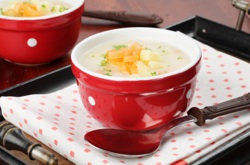 Here's one of those slow cooker soup recipes that delivers a satisfying meal with no fuss and the ingredients are almost always on hand (or enough of them that you can wing it)
Come home to a steaming and fragrant soup on a cold or rainy day, just add a little cream on your way in the door, change into your relaxing duds and let this soup give you a big warm hug from the inside out.
You can even add cooked and crumbled bacon or scramble fried hot Italian sausage to the crock pot with the cream for the last hour, for a substantial meat and potatoes dish.
Crockpot Potato Soup Recipe
Ingredients
3 large - Potatoes, unpeeled, diced into 3/4 inch pieces
1 - Carrot, peeled, quartered lengthwise and chopped
1 - large yellow onion, thinly sliced and chopped
1 - stalk celerysliced thinly
1 - Clove garlic, minced
2 Tablespoons - Fresh dill, snipped or 1/4 tsp, dried
3 Tablespoons - Fresh parsley, snipped or 1 T, dried
5 Cups - Chicken stock, or chicken bouillon and water
1 Cup - Milk or Cream
Salt & Pepper
Method
Place the potatoes, carrot, onion, garlic, celery, dill, parsley and chicken stock (or bouillon and water to make 5 cups) into the crock pot.
Set to low and cook, stirring periodically, for 10 hours. (4 hours on high setting)
For a thicker and creamier version, gently crush some of the potatoes with a potato masher.
Add milk or cream and adjust seasonings to suit your taste or diet, heat for another hour.
Garnish with a sprinkle of cheddar cheese and a tiny sprig of dill
Makes 4 or 5 servings
A leek makes a great substitute for the onion and a cup of (fresh or frozen) corn kernels can be added for color and flavour.