Easy Potato Soup Recipe
One potato, two potato, three potato...
A Quick & Easy Potato Soup Recipe that costs little to make. Here's How to Make a nourishing potato soup with ingredients you probably already have in your pantry.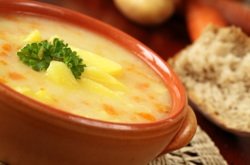 This is a family favorite that's filling enough to have as a supper with a baguette and cheese.
It's easy to keep these ingredients on hand and quick to make the soup for unexpected and hungry company.
A great rib hugger; pack a steaming thermos of this soup for the kids for lunch and they'll be ready for anything the teachers throw their way.
Add a few croutons a little goat cheese or a sprinkle of bacon bits to give a little "uptown" flair to this yummy dish.
Easy Potato Soup Recipe
Ingredients
1 - Large onion, chopped
1/2 Cup - Celery with leaves, chopped
2 - Medium carrots, peeled
1 - Large garlic clove, minced
3 Tablespoons - Butter or margarine
4 Cups - Potato, diced (about 3 medium)
2 - Knorr Chicken bouillon cubes
3 Cups - Water
1/8 - 1/4 teaspoon - Dillweed, dried
1/2 - 1 teaspoon - Salt or to taste
1/8 - Pepper or to taste
1 Cup - Water *see substitute
3/4 Cup - Powdered Whole Milk *see substitute
*Substitute - Replace the 1 cup of water and 3/4 Cup of whole milk powder with 1 can of evaporated milk.
Method
Quarter carrots lengthwise and cut into 1/2 inch (1 cm) pieces, chop onion and celery and mince the garlic.
In a 4 to 5 quart (liter) sized soup pot, simmer the above vegetables in 3 Tablespoons of butter for 5 minutes, stir frequently.
Scrub potatoes and cut out any spots and eyes. It's not necessary to peel the potatoes unless you want to, I leave about half the peel on.
Dice the potatoes into pieces about the size of an olive and add them to the pot along with the water, bouillon cubes and seasonings. Simmer for 20 minutes. Stir occasionally, adding water if necessary.
With the back of a wooden spoon or a potato masher, gently crush some (not all) of the potato pieces in the pot to make the mixture more creamy.
Add milk and re-heat without bringing to a boil.
Serves 6
Leftover Changeover
Before heating leftover soup, scramble fry 3 slices of chopped bacon or 1/4 Cup of hot Italian sausage meat in the soup pot, until thoroughly cooked.
Drain all but one Tablespoon of the fat and add the soup. Stir 'til heated through.
Fantastic!
2 cups of chicken broth can be used in place of the cubes and water and a leek makes a great substitute for the onion.
Enjoy!