How To Make Chicken Stock
Crockpot Chicken Stock Recipe
How To Make Chicken Stock in the Crockpot. Low crockpot cooking temperatures allow the stock to brew unattended all day or all night.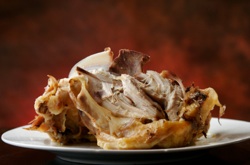 This has to be the easiest way on the planet to make chicken stock from a chicken carcass. When I'm cleaning up from the roast chicken dinner I haul the crockpot out and put the leftover carcass, stuffing, skin, neck, wing tips - all the super flavorful stuff - into the crock pot.
Starting the stock right away saves room in the fridge and I love to get it started right after supper, but don't always enjoy straining soup at midnight.
The perfect answer for me is leaving it overnight in the slow cooker and straining and refrigerating it in the morning.
When I need the stock it has gelled (the stock should have a gelled consistency but will liquefy when re-heated) and the fat has risen to form a solid layer on the top. It's easy to scrape away the fat that I don't want and reheat the stock to make my chicken soup or whatever.
At this point you can freeze or can the stock too!.
Title
Ingredients
Chicken carcass, neck, wing tips, skin, gravy, stuffing.
1 medium - Onion, coarsely chopped
1 rib - Celery, coarsely chopped
1 - Tomato, quartered
1 - Carrot, peeled and cut into 4 chunks
1 - Bayleaf
1 Tablespoon - Parsley, dried
1 teaspoon - Poultry seasoning
Water to cover
Method
Place all the contents into the slow cooker and add water to just about cover the ingredients.
Turn the crockpot to low and cook, covered, at least 10 hours, 15 hours if you can.
Strain the contents into a bowl, then strain again (back into the crock pot) through a strainer lined with at least 3 layers of cheesecloth.
Pour the stock into a storage container for refrigeration or freezing.
*Note - The stock can be boiled down to a thick jelly like consistency and frozen in ice trays to be later added to soups, stews and chowders. The more water that is boiled out of it, the more flavorful the stock will be.