Loaded Baked Potato Soup
A Loaded Baked Potato Soup Recipe that'll knock your socks off! Easy to prepare using everyday ingredients, this recipe yields a hearty and delicious comfort food.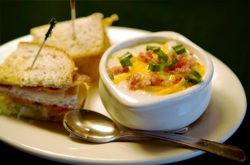 This soup is easy to prepare and quick, except for the hour needed for baking the potato. The flavor and texture of an oven baked potato differs from that of a boiled or microwaved potato and lends a unique taste to this soup.
Set the potatoes to bake and prepare the additional ingredients while they cook.
Potato peel is high in fiber and nutrients and makes a healthy addition to this yummy soup.
Loaded Baked Potato Soup Recipe
Ingredients
1/2 Lb. (200 g) - Bacon reserve fat drippings
1/2 Cup - All-purpose flour
7 Cups - Milk
4 - Large baked potatoes, cubed, chop up half the peel.
4 - green onions, chopped
1 Cup - Sharp cheddar cheese, grated
1 Cup - sour cream light
1 teaspoon - Salt
1 teaspoon - Black pepper freshly ground
To Bake Potatoes
Scrub and pierce 4 large baking potatoes (yukon gold potatoes work fine too). Place potatoes on the rack in an oven so they're not touching each other.
Bake at 400 degrees F for 40 to 60 minutes or until the potato "gives" when squeezed with an oven mitted hand.
Method
Cut bacon crosswise into 1/2 inch (1 cm) pieces.
In a heavy bottomed dutch oven, scramble fry the bacon til crisp and remove with a slotted spoon when done.
Whisk the flour into the remaining bacon fat (use 1/3 cup butter if you prefer) until smooth and bubbly,
Add milk, a cup at a time, stirring constantly until thickened.
Stir in the potatoes, peel and onion (save a little of the onion as garnish). Bring to a simmer while stirring frequently. Simmer for 10 minutes.
Add bacon (save a little bacon for garnish), cheese, sour cream, salt and pepper and stir constantly until the cheese is melted.
Garnish with a small dab of sour cream, a few crumbles of reserved bacon and a sprinkle of green onion.
Makes 6 servings
This loaded baked potato soup recipe can be altered to use less fat by adjusting milk, cheese and sour cream to low or non-fat versions. Additionally, the bacon fat can be eliminated and a turkey bacon can be substituted.