Quick Onion Soup
Easy French Onion Soup Recipe
Here's a Quick Onion Soup Recipe that turns a humble onion into a taste bud pleaser. It looks and tastes just like the classic recipes but it'll take you less than 30 minutes to create.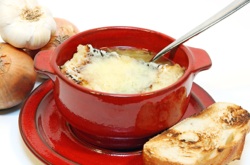 This is a super quick and easy, carmelized onion soup recipe.
I think this is the first soup I ever attempted to make and it turned out so well that it's the recipe I've used ever since.
It's adapted from a recipe that I found in a Betty Crocker cook book, a book I still have after 35 years.
This is a great winter soup that can be made from start to finish in 25 minutes from little more than a large onion and a few cups (or tins) of beef broth.
Onion Soup - The easy way
Ingredients
2 Tablespoons - Butter
2 - yellow onions, medium, peeled, quartered and sliced
2 Tins - Beef broth
2 Tins - Water
4 - 1 inch (2 cm) thick slices of baguette or other bread
1 - Cup - Cheddar or montery jack cheese, shredded
Method
Melt the butter in a 3 quart pot and add onion. Cook the onions, stirring frequently, over medium heat until they just begin to brown - 10 to 15 minutes.
Add the broth and water (or 4 cups of homemade broth or even cubed boullion (the amount depends on the dilution ratio) and 4 cups of water) and simmer, covered, for 10 minutes.
Meanwhile, cut the 4 slices of bread and arrange on a baking sheet, not touching one another. Sprinkle 1/4 of the cheese on each of the bread slices and bake in a 350 degree oven 'til cheese is melted and bread is lightly toasted.
Ladle the soup into 4 bowls and top each with a cheese toast.
Serve immediately.
Makes 4 servings.
This is one of those surprise dishes you can whip up when there's hardly anything in the house to eat.
I always keep bouillon powder or cubes on the pantry shelves for occasions when I don't have tins or tetra packs of broth and almost any day will find an onion in the bin.
You can also top the soup with croutons and parmesan cheese if the bread box and cheese drawer are a little empty.
Even the kids like this one!