Tortilla Soup Recipe
The most popular Mexican soup.
My Tortilla Soup Recipe. Every Mexican restaurant has a version of this soup. The one constant is that the soup is ladled over crisp tortilla chips. Here's my version.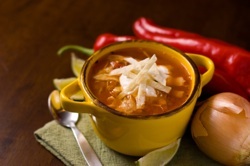 What kind of "Canexican" would I be if I didn't include my rendition of Mexico's famous tortilla soup in the recipe archive.
This recipe yields a colorful soup that feeds the eye as well as the appetite.
Tortilla soup is like the noodle soup of Mexico, and a great way to use up day old, dried up corn tortillas.
I don't stress too much about the tortillas, if I have stale corn tortillas I cut them into 1/2 inch strips and fry them in a little oil (or in a dry cast iron skillet, when making a low fat version) until they're crisp. If I don't have them, I break up corn tortilla chips (totopos) and use those instead.
We set the toppings out in individual bowls (like we do with tacos) and let everyone choose what they want to add to their soup.
Tortilla Soup
Ingredients
1 small - Onion, white or yellow, chopped
1/2 - Poblano chile, seeded and white part removed, thinly sliced
2 cloves - Garlic, minced
1 - 14oz can - crushed tomatoes
5 Cups - Chicken stock
1 - 14 oz can - black beans, rinsed
1 Cup - frozen kernel corn
2 Cups - Cooked chicken, shredded or chopped
1/4 Cup - Dry red wine, optional
Salt to taste
2 Cups - Tortilla strips or chips
Toppings
2 - Avocados, cubed
2 Cups - Melty cheese, grated - Manchego/monterey jack/mozzarella
1 Cup - Sour cream
Cilantro, chopped
Green onion, sliced
Fresh lime
Tortilla strips or chips
Method
In a 3 quart soup pot, saute the onion until transparent (about 10 minutes). Add poblano chile and garlic and saute for an additional minute or two.
Stir in tomatoes and chicken stock and bring to a light boil. Reduce heat to med/low and simmer, covered for 15 minutes.
Add black beans, corn kernels and chicken stir to mix and add wine if you're using it. Simmer for 10 minutes more. Salt to taste.
Place a few tortilla strips or chips in the bottom of each bowl and ladle soup over them.
Offer toppings or garnish each bowl yourself.
Makes 6 servings
Kids love being in charge of choosing their own toppings!