Clam Chowder Recipe
Here's the goods - No clamming up
A New England Style Hot Clam Chowder Recipe. Home made clam chowders are simpler to make than you think. Here's how to brew up a batch of thick and rich chowder that's teeming with clams.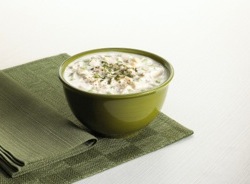 Although thick bowls of chowder bring to mind a blustery seaside port crowded with hardy fishermen, you can make your own version anywhere in the world with fresh, frozen or canned clams and some basic ingredients.
It can be as simple as adding canned clams to our chowder base or as complex as digging your own clams and simmering up a "from scratch" chowder.
Clam chowders are either cream and potato based (New England Style) or tomato based (Manhattan Style).
It all depends on what you have in your pantry.
Clam Chowder Recipes
All Aboard Clam Chowder
Serves - 6 - 8
Prep time - 10 minutes (with pre-prepared clams)
Cooking time - 30 minutes
Calories - You don't want to know
Ingredients
1/2 pound
bacon
, chopped
2 cups chopped
leeks
(washed, white part only)
3/4 cup chopped
celery
3/4 cup chopped
carrots
1/2 cup bleached all-purpose
flour
6 cups
clam juice
3
Bay leaves
1/2 teaspoon
thyme
, dried 1 pound Yukon Gold or red
potatoes
, diced
3 T chopped fresh
parsley
1 cup half & half or heavy
cream
2-3 pounds
clams and liquor*
, prepared as below (or 4 cans with juice)
Salt and pepper
.
*Note - Clam liquor is the term used for clam juice.
Method
In a 5 quart (liter) pot with a heavy bottom, fry the bacon over medium heat 'til crisp.
Add the leeks, celery and carrots. Stir and cook until the vegetables begin to brown.
Sprinkle the flour over the contents and stir. Continue stirring frequently for 5 minutes.
Stir in the clam juice, potatoes, bay leaves and thyme. Set to simmer at medium-low heat. Cook, stirring occasionally for 15 - 20 minutes, until the potatoes are tender (the softer the potatoes, the thicker the chowder).
Add the parsley, cream and clams (with reserved liquor) and simmer lightly for 5 minutes.
Remove bayleaf and add salt and freshly ground pepper to taste.
Serve in large soup bowls with grated cheddar cheese and a baguette or sourdough loaf.
Make lots if you're planning on taking this for lunch tomorrow.